| | | | | | | | | | | | |
| --- | --- | --- | --- | --- | --- | --- | --- | --- | --- | --- | --- |
| | | | | | | | | | | | |
| Home | Club Profile | Book Reviews | Famous Members | Characters | Radio | Genealogy | Biography | Harper Lee | Clippings | Email Me | Search |
A History of Seckatary Hawkins Radio Broadcasting
If you ever heard the radio shows, you will remember the beginning was always -- 2 blasts of a steamboat whistle and the music of, "Way down upon the Suwannee River" playing in the background.
As the opening music played, the announcer would say variations of the following: "Down on the Old River Bank once again with Seckatary Hawkins! Every day after school, the boys of the Fair& Square Club hold the regular meeting of their club in the little shack that they call their clubhouse, down on the bank of the beautiful river. Seckatary Hawkins writes down not only the minutes of the meetings, but also keeps a daily diary of all the excitement and adventure that happens around the old river bank. And say! There's always plenty of exciting adventure going on there, too. The Pelham boys who live just across the river consider the boys on this side their rivals. It's hard to say which side likes the excitement the most, but sometimes the Pelham boys don't care how they win their fights, while Seck and the boys in the clubhouse try to live up to the motto they have adopted for themselves - Fair and Square. As the scene opens now, Hawkins and his club-mates are in the middle of a club meeting - Listen:_Dick Ferris, the club captain is speaking now... (announcer's voice fades)...".
The day's adventures would then be acted out by all the characters from the books.
Sign off was always an announcer saying, "And so the curtain falls again on Seckatary Hawkins and his fair and square club, but it will rise again next time.... when the next episode in this exciting drama will be presented. Don't fail to tune in next time..."
Again, 2 blasts of a steamboat whistle and the music of, "Way down upon the Suwannee River" closed the show.
---
Cincinnati radio station interview of Randy Schulkers and his brother John on May 21st, 2011
Click on each of the buttons above to hear the interview, part 1 thru 4.
---
TIMELINE
January, 1922 -
A trip to the new and wondrous Cincinnati Crosley radio station, a primitive operation in the owners home, stimulated Robert F. Schulkers' imagination and interest. A week later, he wrote a "Seck and the loud voice" story, which was published in the Cincinnati Enquirer on 3/26/1922 - a chapter of The Gray Ghost.
June, 1922 –
RFS begins his radio career by reading his Mile-a-Minute-Milo stories as serialized radio broadcasts on WLW from June, 1922, becoming the first storyteller to broadcast in Cincinnati - and possibly the first storyteller on the air anywhere. Some of the dialog was performed by Robert F. Stayman, studio director / announcer. The M-A-M Milo story was also appearing daily in the Cincy Enquirer at that time.
Seckatary Hawkins story broadcasts did not begin until April 5,1925 at WLW when a weekly series of a serialized - sequel nature began and ran until 1928 when it was moved to station WSAI. Soon WSAI was purchased by WLW, and Seckatary stories moved back there until 1932. RFS read each character's part, changing his voice for each of 17 different characters.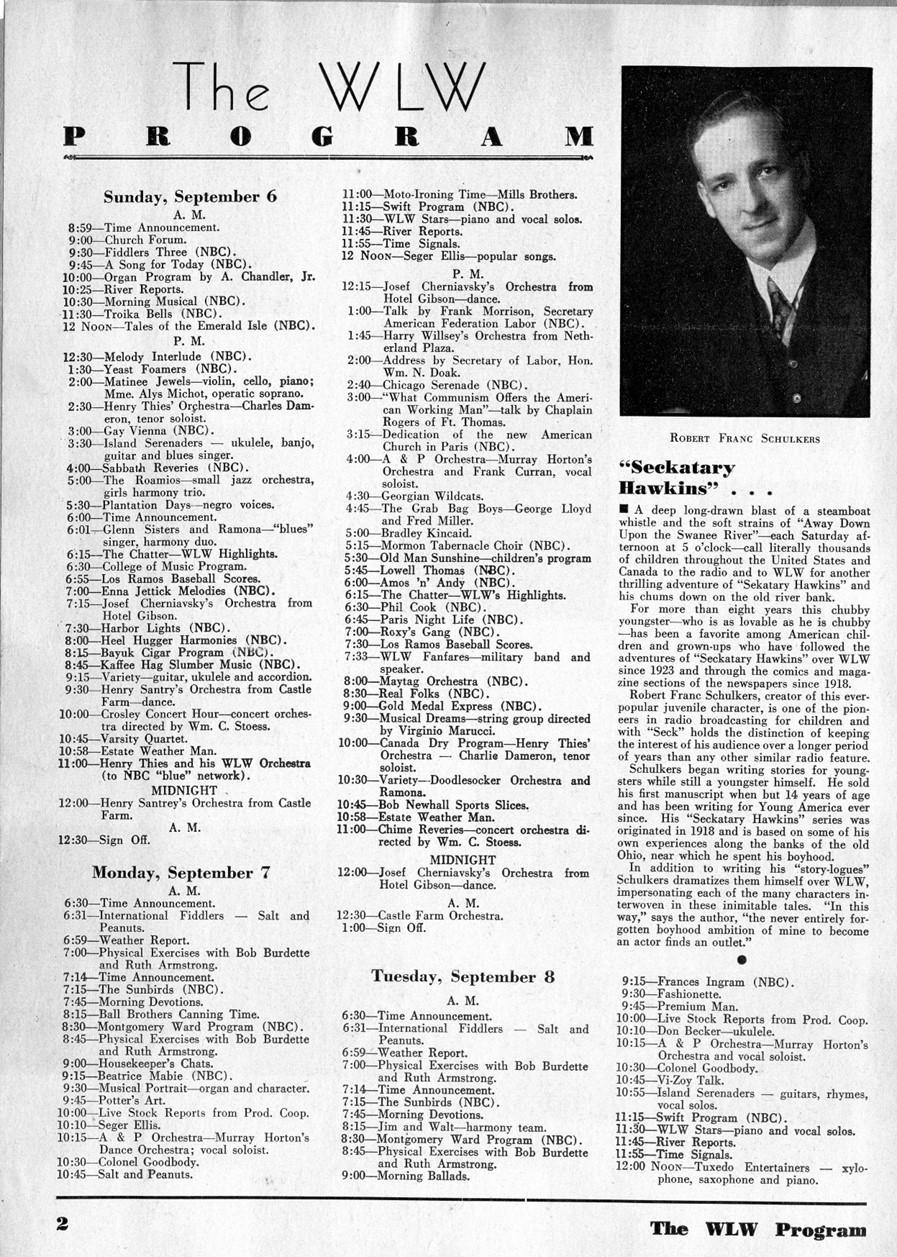 March, 1923 –
The first Seckatary Hawkins clubs formed. Seckatary Hawkins serialized radio programs started at WLW. RFS performs / speaks all 17 character's parts. Probably started with The Chinese Coin.
April 5, 1925 - to 1928 –
˝ hour shows weekly on WLW, Saturdays at 5 PM, then starting in October, 1928, the times were changed to Saturdays at 7:00PM to 7:30PM.
June, 1926 -
Changed to 8:00PM - WSAI in Cincy, but this station was taken over by WLW, and the call letters went to NBC. Seck continued until October, 1932. (10 years)
June, 1930 –
Seckatary Hawkins programs became daily radio broadcast shows. RFS was still the voice for 17 distinct characters for which he altered his voice to accommodate differences.
1931 till Sept 1932 -
SATURDAYS 5:30 TO 6:00PM - on WLW in Cincy:
In a file folder found in RFS archives, there are also a few 1931 "Happy Jack" program scripts for "Cincinnati and Lake Erie Railroad Company program", with a grandfather clock ticking in background. It is interesting that Detective Jeckerson of the Seckatary Hawkins books stories is a character for the Happy Jack programs, but Seck and the club member boys are not mentioned.
* WKRC is mentioned in this folder, but I can't see when it ever ran there.
We found a little pamphlet for JUVENILE RADIO SCHOOL, a dept of Schuster-Martin School of drama where RFS was a guest instructor or something like that. The object was to train children to be effective radio performers.
Sept 1932 - 1935 -
NBC Tuesdays, Thursdays, and Saturdays @ 5:45PM to 6:00PM for the Ralston cereal company from the Chicago Merchandise Mart. RFS spoke the Jeckerson parts and several other characters such as Doc Waters. There is occasional reference to Doc Water's voice being done by other adult characters.
(Mentioned is a 57% increase in sales in a letter from Ralston executive correspondence).
Show titles on NBC were: Buried Treasure, Lake Tapaho, Ching Toy, Chinese Coin, The Red Runners, Bob Longlegs, Herman the Fiddler.
There are lots of fan mail letters in these files praising the radio show and asking to join the club.
Real German Marks were given away as prizes to anyone young or old who sent in 2 cereal box tops at the end of the Buried Treasure broadcasts. The money was not spendable, but fun to play with anyway.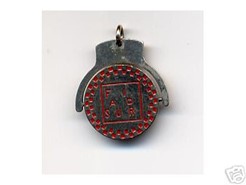 Promotional photo for the Buried Treasure show
Also given away were Seckatary Hawkins club buttons, The Red Runners comic books, and Seckatary newspaper magazine type publications.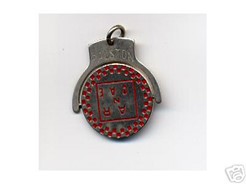 1932 - Good Luck Fair and Square spinners were given away during the Bob Longlegs / Wishbone broadcasts.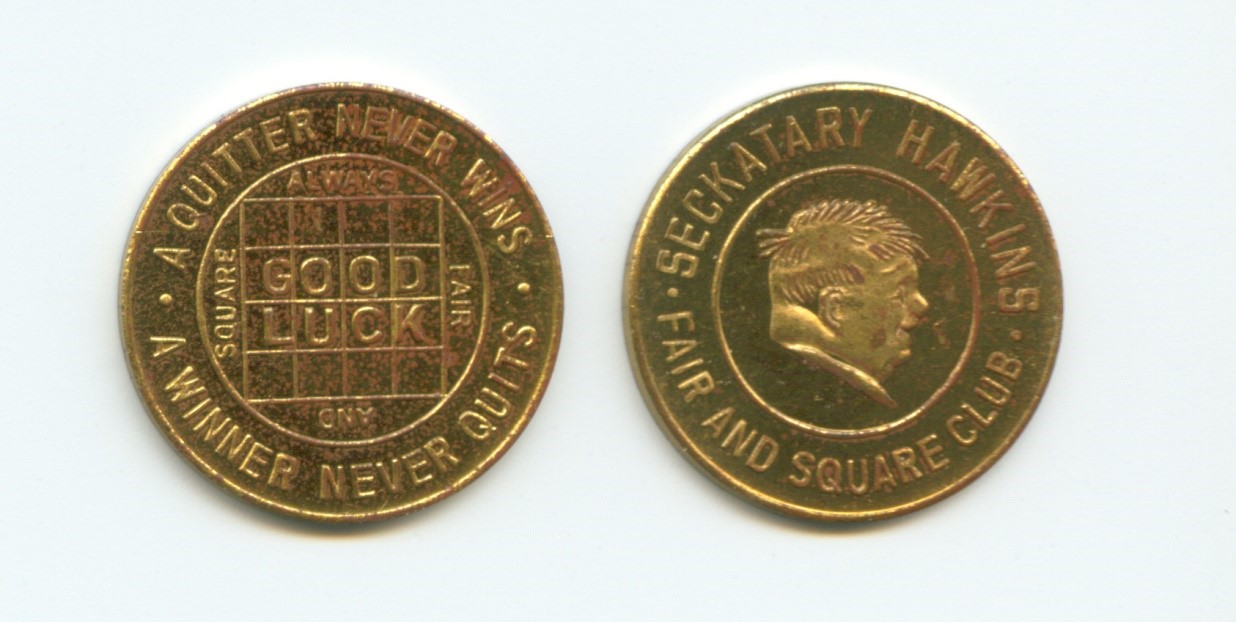 12/11/1932 - Seckatary brass plated good luck coins were give-aways with no cereal box tops. The good luck coins were initially struck by the F H Noble & Co. of Chicago in September of 1932, but not delivered in finalized form until 12/4/32. The 12/11/32 Seckatary Hawkins newspaper story also detailed how the coins came into Seckatary's possession and why he was giving them to all club members for free. They were given out to club members who simply sent in a SASE.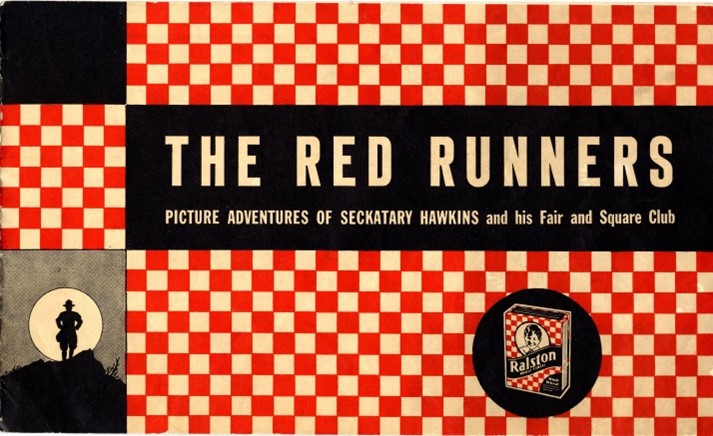 The grid like squares on the obverse side indicate the fair and square motto, of course; but also that all the 16 little squares (representing all the small clubs throughout the country) were integral parts of the big square that represents the big national club. Thousands of chapter-clubs and Millions of members have been reported.
The now rare and expensive paperback book, The Ghost of Lake Tapaho was given away free for 2 Ralston cereal box tops during the Tapaho broadcasts.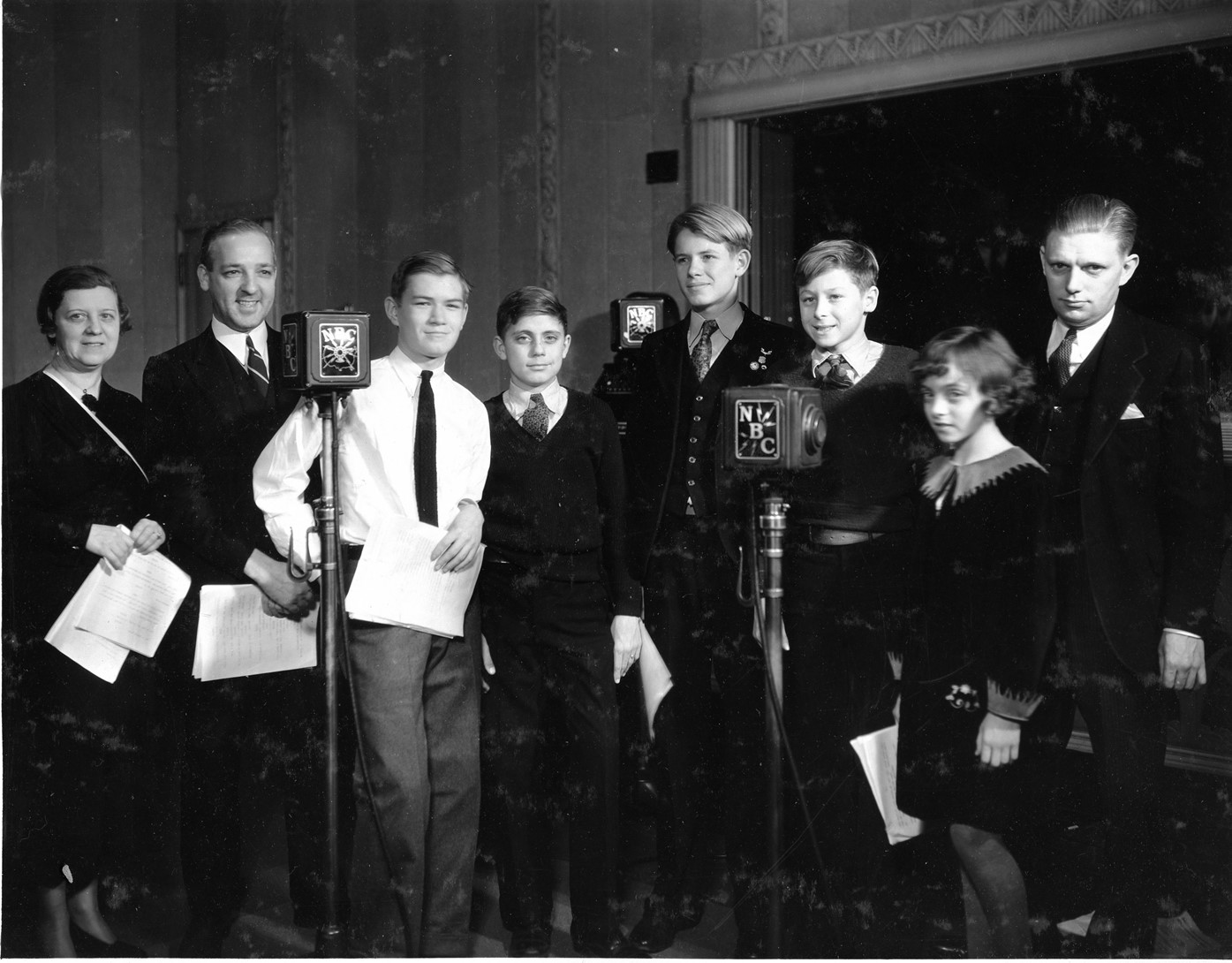 Red Runners comic cartoon books with the newspaper strips was another giveaway, for 2 cereal box tops and postage.
The NBC ACTORS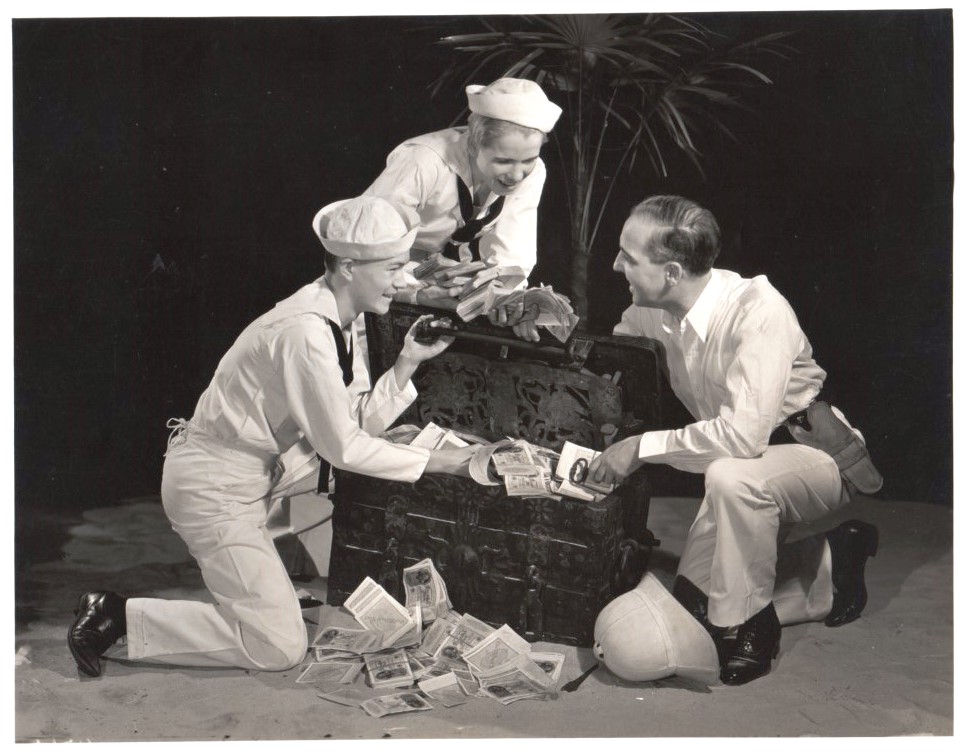 Seckatary and the Radio show actors, Chicago Merchandise Mart studio "B", 1932
Below is a list of the children actors who spoke the various parts in the 1932-34 NBC radio broadcasts from the Chicago Merchandise Mart building, studio B:
Murray McLean - As Seckatary Hawkins (pictured far right)
James Andelin – As Shadow Loomis (pictured 3rd from left) T. Stevens
C. Krauspe
Lorraine Hill - As Evelyn La Valere
D. Whipple - As Mallory
Alexander McQueen - As Chamblis H. Pavey - As Mallory
H. Hinkley - As Crail
Jim Whipple - As Clem Powers
Vic Smith - As Saunders
H. Pavey - As Ollie
B. Staulp - As Johnny
B. Ferris - As Finsterness
Vic Smith - As Captain Saunders
P. Pheland - no part listed
The Ralston commercials were announced by Mr. Ashbaucher.
Other child actor names for commercials were:
Bob Blesnicki, Jack Cahoun, Alfred Brown, Krauspy, Donahue, Carl Boyer, McCullough, Cyril Janecke, Grover Weeks, Perry Stevens, Don McLaughlin, Bob Merriman, Cornelius "Corny" Peeples, and Birdman – (these names appear to have been mostly boys and girls who praised the cereal for their great life and health.)
RFS and Murray "On the air" 1932
OTHER SECKATARY BROADCAST RADIO STATIONS:
WTMJ, Milwaukie – 1927, 5:30PM to 6 Pm daily and 11AM to 12:00 noon on Sundays.
The following stations conducted club meetings on the air as well as the story broadcasts:
WTMJ, Milwaukie, WI – March, 1929 to July, 1932. Daily 5:30 – 6:00PM, and Sunday 11:00 til noon, CST.
WLAP, Louisville, KY – 1928 to 1929
WFJW, Hopkinsville, KY – 1930 to 1931
WHO ; WWJ, Des Moines, Davenport, IA – 1929 to 1932
WSAI Monday 6:30PM; – Tuesday, 7:00 – 7:30 PM EST
WTMJ Saturday 5:40PM (Sunday, July 29 on one script)
WLW Saturday, 5:00 - 5:30 PM, EST (Sunday, July 21 on one script)
WCPO, Cincinnati 6:45PM every night -Year 1936?
SPECIAL SPEAKING BROADCASTS DONE BY RFS:
10/19/31 Special broadcast Pittsburg
WOR, Newark, NJ
WBEM, Buffalo, NY
KQV, Pittsburgh, PA
WWJ, Detroit, MI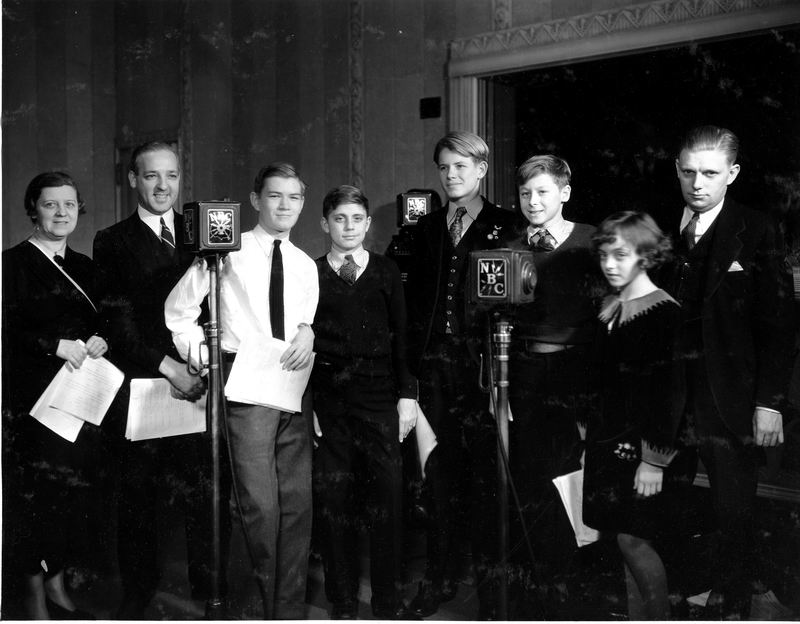 RFS 1931 Station Staff and Radio Actors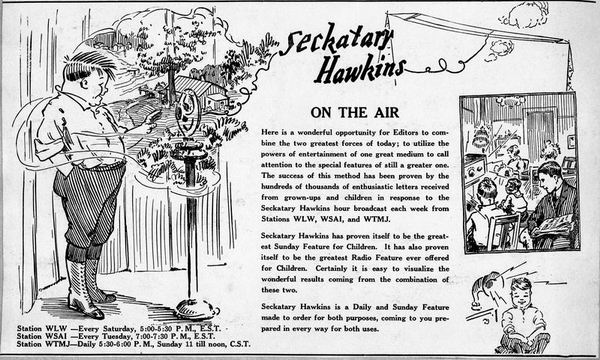 RFS Ad Radio Times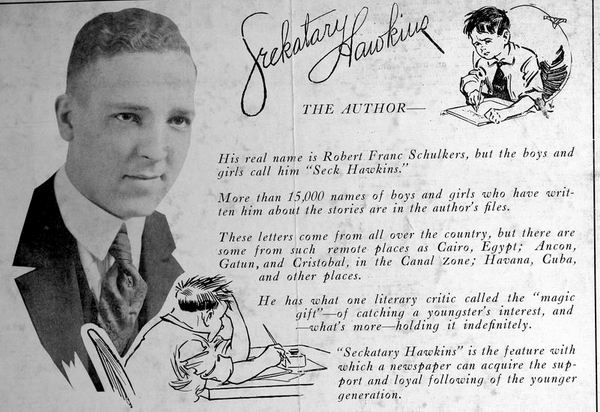 RFS Ad Signature
RFS and Shadow on the Air 1932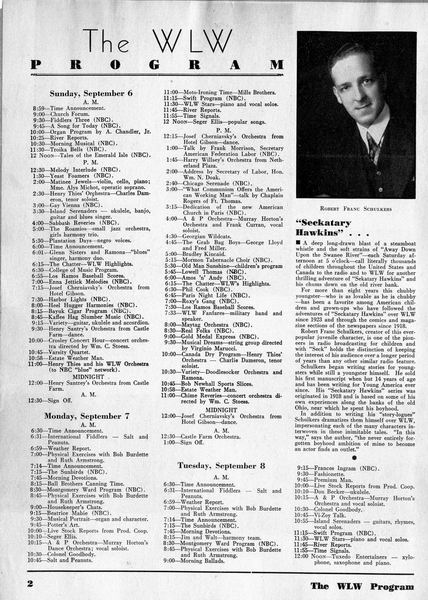 Seckatary WLW Radio Program
Copyright © 1921.22.25.26.30.32.48.53